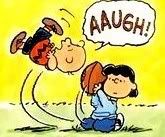 Do you have a Lucy in your life?
Someone who is your friend, but never hesitates to swipe the ball right out from under you?
Someone who always contradicts what you say?
Someone who feels free to inform you of your flaws?
I'm pretty sure we all have some version of Lucy in our world. If it's not a friend~ and really, who needs friends like that when you already have enemies?~ it's a co-worker, family member or an in-law.
I've developed a thick skin about these types of people after years of dealing with The Lucy. It's only because I have a strategy. I will share it with you because I love you.
1. Smile.
2. Smile and ask if they were saving that spinach in their teeth for later.
3. Smile and ask if anyone has ever told them they resemble Cruella Deville.
4. Smile and suggest they take up surfing…in shark season.
5. Smile, hug them and tell them you've just had lice.
6. Imagine them in their underwear in front of whoever makes them most nervous. And then smile.
7. Smile, knowing you are all the stronger for being positive in the midst of such negativity.
8. Smile and walk away. For good.
Thumper's mom really did have the right idea when she said, "If you can't say something nice, don't say anything at all…" Sometimes it's hard to remember that on a daily basis when life gets complicated and PEOPLE~ complicated, neurotic and even perpetually sunny people~ are involved. We do have to all get along.
Sometimes, it can be unfortunate.
Sometimes, it can get messy.
But I'm pretty sure we're supposed to love each other and to do that, sometimes, you just have to smile and know that the Lucy in your life does not define you, does not hold you back, does not rub off on you and does not have to be the voice you hear.
Amen.